UNO is one of the most popular card game ever. But how can I play this game online and best of all for free? I'll show you a few ways to play UNO online (or cool alternatives that feel like UNO).
Did you know that UNO is kind of like the game Crazy Eights, but with even more elements? Besides the normal deck of cards, there are super cards like Skip, Reverse, Draw 2, Draw 4 and Choose a Color, as well as a Color Changer card. However, UNO is also known among them because it is a brand of Mattel, with which we have no relation here with us. Here are some apps that you can play desktop.
Play Crazy Eights which is quite similiar to UNO rules
Here on gidd.io you can play Crazy Eights with friends for free with all the common special cards like skip, reverse, draw and the color change card. Also, like other games, you have to say UNO! at the end before you can discard your last card. If the others catch you not doing it, you have to draw a card. You can play it on windows, macOS, iOS and android.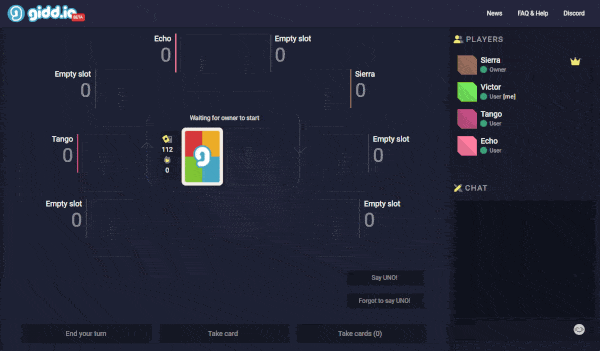 Buy UNO in the Ubisoft Store
Ubisoft has developed an official UNO version supported by Mattel. It has the official rules and five DLCs like UNO Flip which is really cool to play. You can play the version on windows, nintendo switch, playstation and xbox, but you and all of your friends need to buy it for $9.99. However, Ubisoft+ also includes this. It's a membership for $14.99/month where many more Ubisoft games are included.
Play other HTML5 games
There are still countless UNO-like games out there on platforms that usually offer thousands of games. However, my personal opinion is: Leave it alone. Often there is no functioning multiplayer, endless advertising and it is not really smooth to play.